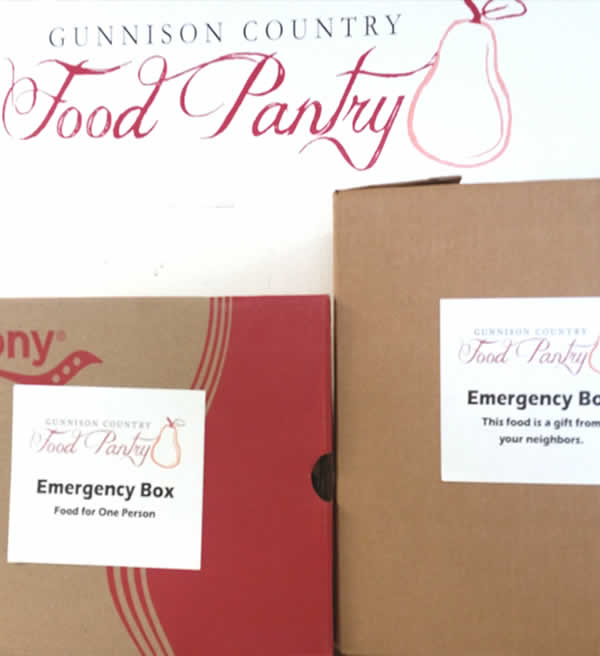 Making sure food is close at hand for those in need.
"Emergency Food is a fantastic idea.  We can help local residents as well as others passing through town." 
GCFP Emergency Food Boxes – providing help where it's needed
Gunnison Country Food Pantry has stocked Emergency Boxes at locations across the Gunnison Valley.
Emergency Boxes come in individual and family size and provide enough food for three days, with minimal cooking necessary to prepare items. When you are down on your luck, and hunger strikes, you can be in an emergency situation if you cannot access food. The Pantry is here to help! Boxes are located at community service locations where someone seeking help would likely visit. Those seeking help could be a community member or someone just passing through.
Call (970) 641-4156 to be an Emergency Box location.
Emergency Food Box Locations:
Gunnison County Depart. of Health & Human Services

 

Gunnison County Senior Resources

 

Gunnison County Juvenile Services

 

Gunnison County Sheriff's Office

 

Gunnison Police Department

 

Gunnison County Detention Center

 

Colorado Workforce Center

 

Center for Mental Health

 

Six Points Evaluation and Training

 

Lighthouse Pregnancy Center

 
Project Hope of Gunnison Valley

 

Gunnison Visitors Center

 

Bethany Baptist Church

 

Community Church of Gunnison

 

Rocky Mountain Christian Ministries

 

St. Peter's Catholic Church
Gunnison Congregational Church
En Iglesia Manuel Church

Marble Community Church 

Gunnison High School

 
Gunnison County Public Library
Crested Butte Visitors Center

 

Crested Butte Library

 

CBMR Employment Office

 

Crested Butte Marshall's Office

 

Mt. Crested Butte Police Department
Law Enforcement Victims Assistance
Gunnison Valley Hospital
St. Mary's Garage
Silver Plume General Store
Greater Somerset Food Pantry