No one should go hungry in Gunnison County!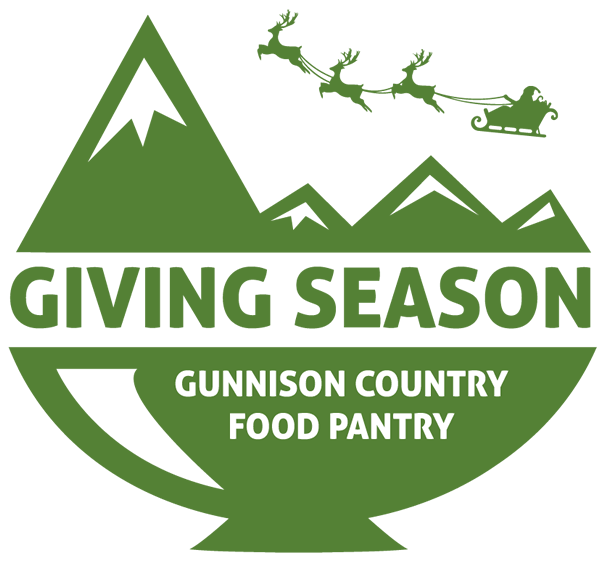 Help your neighbors by sending a gift to Gunnison Country Food Pantry (GCFP)
PO Box 7077
Gunnison CO 81230
COVID-19 INFORMATION
Gunnison Country Food Pantry continues to provide food assistance to those experiencing food insecurity during the current emergency.  The Pantry practices social distancing by serving one recipient at a time at the front door.  Recipients will receive enough food for one week and may return once a week during the stay home order.
Volunteers are urged to not come to the Pantry if they exhibit symptoms of the coronavirus or if they are self-isolating.
Those who need food assistance and are self-isolating due to illness or high-risk factors should call the County's Delivery Assistance Hotline 970-641-7959 to ask for a delivery of Pantry food.
Our Mission
The Gunnison Country Food Pantry serves those in need by providing food assistance in a kind, confidential and supportive environment.  We recognize that asking for temporary help is difficult and that those in need might be a neighbor or friend.
Welcome to the Gunnison Country Food Pantry website! We are a nonprofit 501(c)(3) organization focused on helping residents of Gunnison County who are in need of food assistance.
The Pantry is located at 321-C N. Main Street in Gunnison on the SW corner of Main and Ohio.
The Pantry is open Mondays 1:00 pm to 4:00 pm and Wednesdays 1:00 pm. to 7:00 pm.
People age 60 and older are served on Thursdays 10:00 am to 2:00 pm.
Gunnison Country Food Pantry

Introduction Video on Vimeo.
Donate and Be Recognized
   FRIEND OF THE PANTRY  $20 – $499
   SPONSOR OF THE PANTRY   $500 – $999
  BENEFACTOR OF THE  PANTRY  Above $1,000
______________________________________________
Your tax-deductible gift is payable to Gunnison Country Food Pantry (GCFP)
in the following ways:
to the Pantry, PO Box 7077, Gunnison CO 81230
on this website –gunnisoncountryfoodpantry.org
at the Pantry, 321-C N Main St on SW corner of Main and Ohio Mon 1p-4p, Wed 1p-7p, Thu 10a-2p