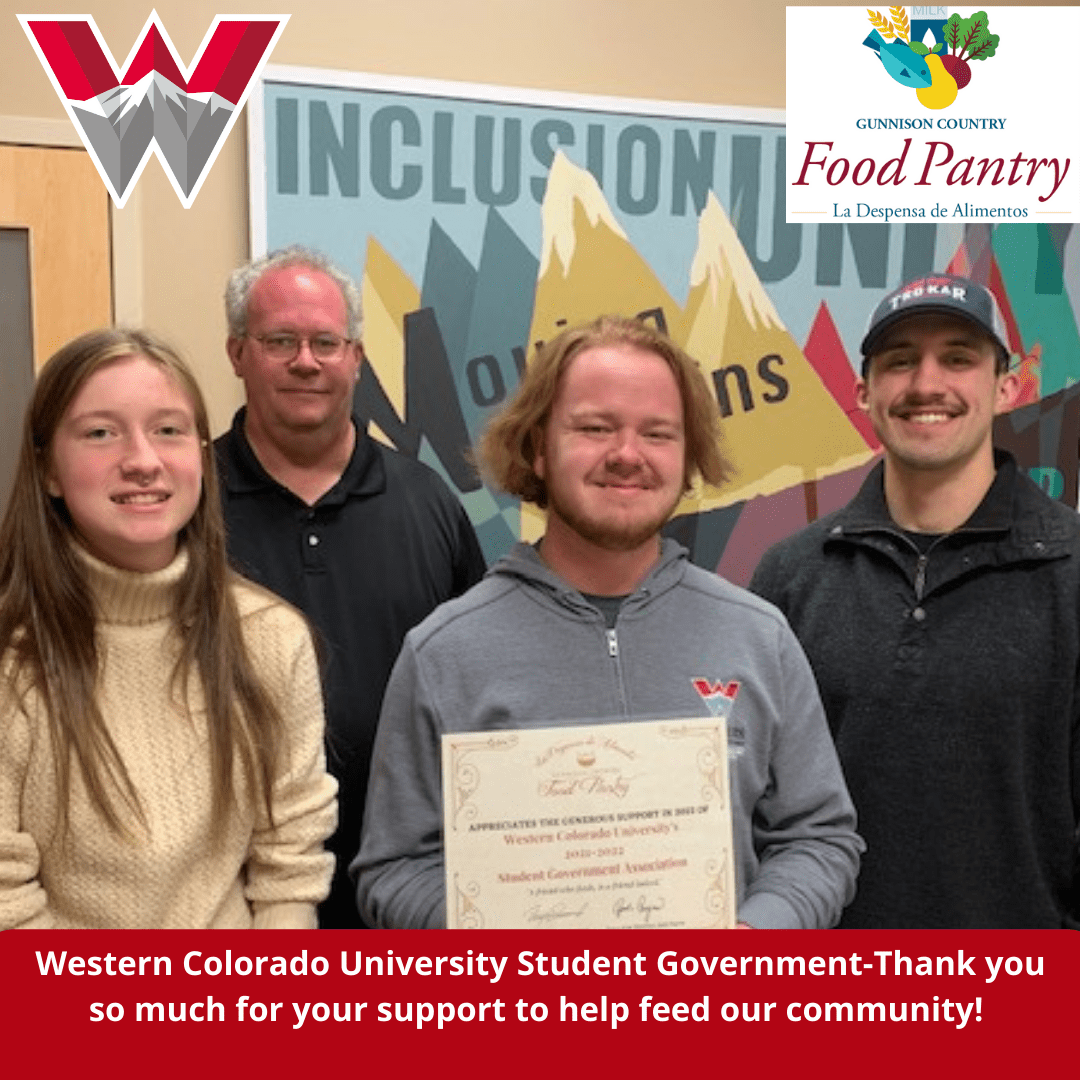 You make a big difference in our community!
"Thank you and God bless you."
Thank You Donors
On behalf of our Board and our volunteers, we would like to thank the many generous contributors to Gunnison Country Food Pantry.   We could not operate without your support!  Thank you for recognizing that our Pantry is an important component of our community.  We assure all of our donors that we are wise stewards with every dollar donated and every donation of food provided on behalf of those facing hunger in Gunnison County.
See our Donation page for information on how to donate to Gunnison Country Food Pantry.
Great Thanks to GCFP 2022 Donors
Young at Heart Meals
Gunnison County
Colorado Food Assistance Grant
Bethany Baptist Church
Community Foundation of the Gunnison Valley
Vail Resorts Charitable Fund
City of Gunnison
Gunnison Elks Lodge 1623
Andrew Shekas
Atmos Energy, Robert W. Best Charitable Giving Fund
Willie Wilson
H. Scott McIntosh Jr.
Anne Michel
Albertsons Companies Foundation
Greater Toledo Community Foundation
Western Student Government Association
Andie and Mark Holman
Nick Waser and Mary Price
Gunnison Home Association
Jack E. Blake
Clark's Market
Randy Graupner
Ray and Kristin Hernandez
Charles and Sherryl Peterson
Gunnison Car Club
Walmart Foundation
Kathleen Cortner
William Hamilton and Jacqueline Bird
Tamara Williams
Community Church of Gunnison
Mountain Earth
A.J. and Kathy Weber Alt
Crested Butte Ace Hardware
Blake Hawk
Community Banks of Colorado
Elizabeth and Don Smith
Gary and Karen Shondeck
Gunnison Country Times
High Mountain Liquor
Kathleen Gentry
Leslie Irwin
Lois and Wayne Oldham
Bluebird Realty
Peter and Katharine Winograd
Robin Baade
Rocky Mountain Christian Ministries
Stephania Timothy
Terry K. Morrow
Western Colorado University
Katalin Wolff
Bart and Sue Carbone
Becky and Ben Paradee
Vincent and Joanne Rogalski
Church of the Good Samaritan Episcopal
Kroger Co. Foundation
Dara MacDonald
St Peter's Catholic Church
Rob Theid
James Perrin Quarles
Marla and Greg Larson
Mike and Stacey Shafer
Cricket Farrington
Wes and Benita Bellamy
Evans Clements
Katherine Margolles
Melissa Humphreys
Candi Borah
Caroline McLean and Frank Stern
Christopher Klein Construction, Inc.
Ethel Rice
Farmers Insurance – Bob Brake Insurance Agency
Gunnison Bank & Trust Company
Jacklyn Neill
Janice Goodman
John Dietrich, Water Operations Inc
Karl Zachar and Kara Buckley
Lisa Mapes
Margot Levy
Rachel Meissner
Ron Malone
Ronald T. Goering and Imogene M. Bessett
Rotary Club of Gunnison
Seventh Day Adventist Church
The Denver Foundation
Mark and Peggy High
Kroger Community Rewards
Trish Calkins
Abracadabra
Alexandra Cohen
Jean Almgren
Jerome Arthur Denton
Nancy Dean
Michael Benedict
Ryan White
Kate Magnus
Tricia and Michael Kalka
Jennifer and Drew Verdecchia
Souled Out Sound
Joanne and Paul Ferron
Nancy and Neil Kovach
Anne Coster
Steve Secofsky
Gunnison Savings and Loan
Gunnison Valley Hospital
Mark Bennett
Ronda Connaway
Sally Neher
Sharon and Jim Mendonca
Peter Dennis Caloger
Debbe Weidler
Ellen Harriman
Kowal Construction
Faith Magill
Grace and Daniel Swansinger
Ken Henry
M Ventura Design Build LLC
Steve and Debbie Williams
Vikki and Don Archuleta
Cynthia Stanley
Nicholas Pompa
Anthony Poponi
Catherine Cheng
Debra Reich
James Withey
Jyll Scott
Melody Van Boerum
Michael Reily
Arlene and Jerry Kowal
Barbara and David Hyatt
Bryan Wickenhauser
Claire and Chris Mootz
David Klingsmith
Diana Graves
Donalee Dunbar
Galen and Nancy Houston
Gunnison Congregational Church
Gwen Mataisz
John D Cleeton
Katherine Norgard
Katie and David Neben
Laird Cagan
Marisa Fratto-Simolo
Mike Keith and Linda Battaglia
Mr. and Mrs Alpern
Paul and Roberta Davis
PEO Sisterhood Chapter AN
Rocky Mountain Health Foundation
Ron and Marilyn Payne
Sandy and Burt Guerrieri
Judy Gazzoli
Jamie Elsasser
Suzanne Cioffi
Terence & Darla Riggan
Brenda Haase
Faye & Morris Levine
Ruth and John Gallowich
All Saints in the Mountains Episcopal Church
Dani Crist
Eric Freson
Janice and Daniel McIntire
Joe and Katie Dix
Michael Callihan
Molly Minneman
Molly Minneman and Edward Conner
Nora and Richard Ricci
Sandra Cortner and Greg Payne
Western Colorado University Department of Residence Life
Francis Owen and Cara Guerrieri
Laura and Donald O'Connor
Carolyn and Jim Dicesare
McKenzie Mathewson
Barb Haas
Souper Bowl of Caring Inc.
Amy Weaver
Alysia Pearcy
2022 Donors of Goods and Services
5 Bs BBQ
Aaron Mason Artistry LLC
AJ and Kathy Alt
Alpine Gateways
Angie Krueger
Anonymous
Arlene Kowal
Arrowhead Improvements Association and Arrowhead Fire Dept (AVFD)
Avalanche Bar and Grill
Becky Wilkins
BK Bleakley
Boomers + Beyond Book Club
Buckel Family Wine
Chris Brown
Chuck Reynolds
Cindy West
City Market Store 419
Clark's Market
Club at Crested Butte
Colleen Hamon
Colt and Jennifer Alton
Community Church
Conner Eldridge
Connie Rehberg
Conor Orchards
Creative Catering
Crested  Butte Community Library Red Bucket Food Drive
Crested Butte Arts Festival
Crested Butte Mountain Resort
Crystal Cobb
Dallas Kilcommons
Danny and Kerry Lefebvre, Mario's Pizza & Pasta
Dennise Ortiz
Diane and Fran Wickenhauser
Diane Folowell
Dianna Irigel
Dina Obaid
Doug Kennedy
Duane Miller
Eldo
Elizabeth Shaw
Emily Cannon
Episcopal Church of the Good Samaritan
Eva Garcia
Gabbi Kellman
Gary Grantham
Gaye Austin
Gayle Berkoben
Good Semeritans
Gunni Gal
GunniSack
Gunnison Community School
Gunnison Community School
Gunnison Congregational Church UCC
Gunnison County Dept of Health and Human Services
Gunnison High School Honor Society
Gunnison Post Office Red Bucket
Gunnison Trails Growler Food Drive
Gunnison Valley Hospital Foundation Red Bucket Food Drive
Gunnison Vitamin
Heidi Thompson
HR Block
Irwin Guides
Jackie Creed
Jen Champ, Champion Books
Jerry Burgess
Jessica Tullis Sylvanson
Jodi Payne
Joe Falaska
John Zaabadick, Zaabadick Construction
Judy Watson
Julie Landry
Kathleen Cortner
Kathy Alt
Kathy Baril
Kathy Carr
Kathy Higgins
Kathy Walker
Kathy Wilcox
Kathy Wilkins
Kathy Winslow
Katie and Joe Dix
Kristina Kasik
Kyleena Falzone, Secret Stash Pizza
Linda and Harv Rees, KEJJ The Edge
Linda Brown
Lindsay Causby
Lisa Tassler
Mark Marcuzzo
Marlys and Frank Buffington
Martha Newman
Mary Bunt
Maryo Ewell and George Sibley
Max Sawyer
Microsoft 365
Mike McIntosh
Mission Bakeries
Montanya Distillers
Monty Jones
Mountain Oven Organic Bakery
Mountain Roots Food Project Backyard Harvest
Olivia Lopez
Oroweat
Parker Pastures
Pat's Screen Printing
Pauline Simillion
Pitkin Fish Hatchery
Precision Automotive
Producers Guild
Queen of all Saints Catholic Church Food Drive
Ray and Kristen Hernandez
Rich Huss
Rita Bohn and Bob Wojtko
Safeway Store 617
Safeway Red Bucket Red Bucket Food Drive
Sam Austin
Sara Lee Bread
Savanna Meyer
Sharon Cave
Sharon Mendonca
Sheryl Stenson
Six Points Thrift Store and Training Center
St. Mary's Garage
Staci Ohagan
Stacie Dement
Star Vargas
Steve Schecther and Lyda Hardy
Sue Rogers
Tenderfoot Child & Family Development Center
Terry Valen
Tess Peterson
Theresa Tranton
Tourism Foundation
Tracy Coleman
Turtle Fur
Visionary Broadband
Walmart Store 1550
WCU Energy Management club
WCU ODK
Wilders Organic Market
Ynette Hogue
Zeke With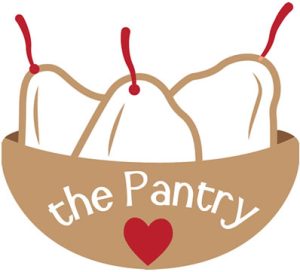 Donors, you make a difference. Thank you.