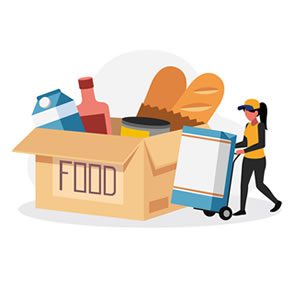 Gunnison Country Food Pantry moving into new location
Crested Butte News
September 6, 2023
The original article can be found here.
Volunteers needed; demand increases reflect a national issue
By Katherine Nettles
The Gunnison Country Food Pantry is moving this month into a new, much larger location in Gunnison which will help with an increase in people looking for assistance this year. That trend has developed even as  decreasing supplies have come in from both national supply chains and more regional and local sources. While trying to keep up with the increasing demands, the pantry is looking for more donations and getting the finishing touches on its new facility in Gunnison is a welcome accomplishment.
The Pantry's executive director Jodi Payne says that in a broader context, this supply decrease coupled with increasing demand is happening on a national level.
 "This isn't unique to us. Many other food pantries across the country are experiencing the same things," she says.
Pantry organizers believe there are several factors at play with the uptick in visitors. First, the federal Supplemental Nutrition Assistance Program (SNAP) funding was cut back in March of this year, leaving more people who fall short on income without the benefit of additional food credits. Second, the relative geographical isolation of the Gunnison Valley makes it harder to get food. "We live in a food desert, so when tourists come to town there's less available," Payne points out.
Other "environmental factors" include government-backed COVID subsidies having been cut back, compounding inflation and high gas prices. "There's really a handful of factors," says Payne.
The pantry crunched its numbers and found that in July 2022, 550 different households made a total of 3,597 visits to the pantry to supplement their food supply. In 2023, the number of households has increased to 745 making 4,678 visits.
"We've had about 1,000 more visits and have seen only about 200 more individuals," she says.
"So these households that may have formerly come in once per month, perhaps right before their paycheck came in when things got tight, or during holidays, are now coming to visit weekly. That is a change in how our pantry is serving the community."
While the pantry aims to serve anyone who asks, it targets working folks who are not at poverty level but don't make quite enough to be self sufficient. 
"Thirty-one percent of our recipients are already on public assistance. Seventy-five percent do not exceed the income eligibility, with is the federal poverty level," she says, which is a change showing that more people making very little are coming to the pantry when other services for which they qualify fall short.
At the same time, the food sources that the pantry relies on have dwindled somewhat. The pantry has three main sources for stocking its shelves: a food bank in Colorado Springs, a group of national food chains and individual donations. The largest shares come from the regional and national groups and have been stretched thinner of late.
"We get food from Care and Share Food Bank of Colorado Springs. They work with government distributed canned goods, pantry staples and help distribute out to other pantries," says Payne. "And they have brought us 10,500 pounds less than what they did last year at the same time."
Feeding America collects surplus items from major retailers like Safeway, Walmart and Kroger to supply pantries. "We believe that our supplies from Feeding America partners is also less, but we have changed some of the methods of tracking over the past year so we can't quantify that. But shoppers and volunteers are seeing less," reports Payne.
This may be in part due to the need to divvy out resources across a larger span as demand has increased everywhere in the U.S. 
And then there are the community donations, which are also down.
"We're seeing less come in, even from rotating locations like Clark's and the post office. Our biggest hypothesis is that people are going to the grocery store and their budget is tighter, so they are just thinking of their own families," says Payne. "Folks are feeling a little bit less financially secure."
There has been a slight increase in the Hispanic and immigrant population visitors, and the pantry reports that 35% of those they have served in 2023 have been Hispanic, Cora or non-white. They're also serving more older individuals (60 years or older), who make up about 13% of all visitors.
"Also, our children programs have blown up," she says. The pantry tracks whether families who visit declare children in their households, and has determined from that data that 26% of those they serve are kids. 
Outreach campaigns
The pantry has increased its outreach visits to various parts of the county this year, which Payne describes as low barrier community interactions to build trust and help people feel more comfortable coming to the pantry. The pantry has had 569 total visits to different locations offering food this year, up from 261 visits last year. "That's partially due to our effort, we are trying to increase our outreach," says Payne.
She describes some of those visits, such as the revamped Gunni Pack program, which aims to be casual and approachable so as to invite participation among those who may be in need but not seeking help. 
"Those are meant to be incredibly low barrier, so that a child could sign themselves up for this program, or an older child could sign up their younger sibling," she says. The pantry collects the child's name, their parent name, address, phone number and household size, then delivers Gunni Packs to the children's homes on Friday afternoons. Gunni Packs include supplies for four meals and three to four snacks delivered right to their doorstep. 
"There was definitely a need for an effort like this," says Payne, especially as the former Healthy Food for All Kids program ended. There were 43 applicants from Gunnison and two in the North Valley, and all are being served. 
Another outreach campaign, called the Fresh Mobile Pantry, drives into four to five neighborhoods within Gunnison City limits on Saturday mornings, bringing fresh food to anyone who comes. 
"If we show up in a neighborhood three times and no one comes then we will switch to a different one," says Payne. Otherwise, the mobile pantry rotates through different areas in an effort to bridge a gap and start a conversation with people about food and their needs. The drivers are bilingual, which Payne says makes a difference as some visitors speak only Spanish. 
While the realities of fewer supplies have been challenging, Payne says the pantry has to keep trouble-shooting and being creative. So when the shelves are more bare, she says  they just manage expectations. 
"This is the landscape of food pantries across the nation," says Payne. "Mostly I feel inspired by the issues ahead of us. I mostly feel so grateful to live in a community where there is interest in taking care of our neighbors. I see there is a need to be a little bit more strategic. We may need to pivot if we need to spend more money buying food to distribute… so we can continue to meet the demand for what households need."
Payne says she wants people to know they can keep coming, and there will be enough to help them. "We've been doing this for 15-plus years now. So there's a lot of people that support us. I know people will rally behind us. We know we're going to make it. And we want people to keep coming in."
As of now, the pantry anticipates closing Monday, September 11 through Sunday, September 17 for its big move and opening again for regular distributions on Monday, September 18. Next week, there will be no food distribution – except the Fresh Mobile Pantry on Saturday morning. 
The pantry's new address is 114 S. 14th Street in Gunnison behind the 5 B's Barbeque. 
More information on Gunnison Country Food Pantry services, volunteering or donations can be found at https://gunnisoncountryfoodpantry.org.