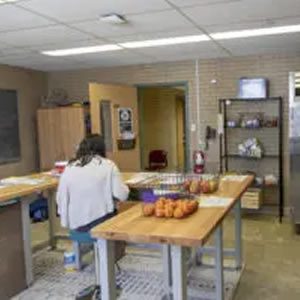 Western food pantry opens for business
Gunnison Country Times
February 22, 2023
The original article can be found here.
Mountaineer Food Hub to serve students twice a week
Abby Harrison | Times Staff Writer
A new food pantry has formally opened its doors to serve students at Western Colorado University. Mountaineer Food Hub, operating in the basement of Western's Leslie J. Savage Library, opened on Feb. 7. As soon as the doors opened, students were lining up for distributions, and the hub served nearly 30 students on opening day alone.
"Almost every student who walked into that food pantry that day, their eyes were wide and their jaws dropped," said Gunnison Country Food Pantry Executive Director Jodi Payne. "It's a humble space, it's a small space, but students were so grateful."
The wheels started turning nearly a year ago, when the food pantry was invited to participate on Western's Hunger Free Campus Committee, to help the university address food disparities on campus. At the time, there was a once-a-month pop-up pantry for students, but in 2022, the group facilitating the project, honor society Omicron Delta Kappa, disbanded. In response, students started brainstorming how to keep the service available.
"I'm not sure people believe, or take seriously, student food insecurity," Payne said. "People often have the perception that mom and dad or whoever is footing the bill for college is in the picture and helpful financially. But time and time again, we're finding that that's not the case for Western students."
Need intensified after the pandemic, as costs of living rose across the board, said Christine Spiers, program coordinator for student health and wellness and Western student. That reality boils down to daily sacrifices, she said, like skipping a meal to buy a textbook or eating processed food to save for utilities.
"Most students are paying for school as well as paying their rent and paying for food," she said. "And so as students, we often skip meals in order to meet our needs."
In 2022, Western's student affairs and student health and wellness departments began working with the pantry to build the program. Half a year later, students were lining up outside room 115 for food.
The hub receives food from Care and Share Food Bank, a Colorado nonprofit that distributes food to pantries all over the state. Through the partnership with the food pantry, the hub is also eligible for food from the Emergency Food Assistance Program, a federal program that helps supplement the diets of low-income Americans. It also receives funding from the school and community donations.
The details are still being hammered out. The food pantry is working with Western to decide how much food it will need regularly and what should be in the inventory. So far, the hub has been able to purchase fresh fruit and vegetables and gluten-free and non-dairy alternatives. The goal is to serve the student population, Spiers said, which means including snacks alongside more nutrient-dense, fresh food.
The partnership is mutually beneficial, Payne said. When one of the pantries receives an excess of a certain type of food, trades can occur to even the scales for both locations.
"The food pantry could get something ridiculous, like 10 pallets of watermelons, and we don't know what to do with that," she said. "But [Western's] ordering side is a little different from ours so they might get four pallets of peanut butter, and because we have this relationship, we're able to trade. Ultimately, I think this will mean less food will go to waste."
Spiers said the feedback on opening day was positive, focused on how the food hub was serving a real need in Western's student community. The food hub is open for students twice a week on Tuesdays and Thursdays from 12:30-2:30 p.m. and for faculty and staff on the first Friday of every month from 2-4 p.m.
(Abby Harrison can be contacted at 970.641.1414 or abby@gunnisontimes.com.)