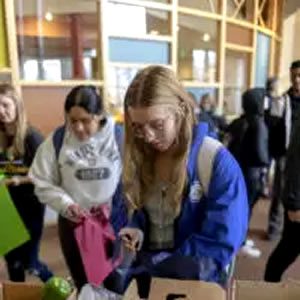 Western event focus on food insecurity
Gunnison Country Times
November 16, 2022
The original article can be found here.
Masters students honor National Rural Health Day
Abby Harrison | Times Staff Writer
Western Colorado University students lined up on Monday afternoon for free fruit and vegetables in the University Center. They packed bags full of the colorful fare; cups of blueberries, bunches of carrots and boxes of yellow onions on plastic tables manned by fellow students and nonprofits. The event, put on by the Master of Behavioral Science (MBS) cohort, was meant to connect students with food security resources. 
"We noticed that there's a big issue on campus with food security, specifically because groceries are so expensive in Gunnison, and a lot of students at Western aren't on meal plans," said cohort member Madison Gregurek. 
The cohort held the two-hour event in recognition of National Rural Health Day, a nation-wide effort to identify unique health challenges facing rural citizens. The students were joined by the Gunnison Country Food Pantry, the Mountain Roots Food Project and Gunnison County Juvenile Services, which added a behavioral health component to the event, distributing resources for drug-use safety and sexual health.
In addition to connecting students with resources — like how to apply state-funded assistance with Supplement Nutrition Assistance Program (SNAP), and Temporary Assistance for Needy Families (TANF) — the MBS students gathered survey results to compile data on how Western students are grappling with food insecurity.  
Instances of food insecurity in the valley have hovered between 10-15% in recent years, according to a behavioral health analysis compiled by Gunnison County Juvenile Services in 2022. The report found that food insecurity, as measured by use of the Gunnison Country Food Pantry and SNAP, increased dramatically from pre-pandemic levels in 2020. 
Social stigma, belief systems and lack of connection discouraged Gunnison residents from seeking help. These barriers were part of what spurred the cohort to hold a National Rural Health Day event focused on food insecurity.
"It's not necessarily that students are going hungry, it's that they're having to choose. They're having to try to prioritize these needs that are of equal priority, like shelter, food, gas or fixing their car," said Jackson Schwartz, an MBS student and cross country runner. 
But the focus on food insecurity was also a result of what they were hearing from peers. Schwartz said he saw fellow student-athletes facing tough decisions this past summer.
"I was witnessing a lot of my friends and teammates struggle to pay for both rent and their groceries each month," he said.
He spoke to peers who had their back up against the wall with finances.
"I knew of a student who was in a very desperate situation, and they ended up having to steal some groceries, and they felt terrible about it. It was really weighing on them. It was a horrible situation to see how conflicted they felt about having to do so out of necessity," he said.  
Food insecurity is about more than physical hunger, said Gunnison Country Food Pantry Executive Director Jodi Payne.
"It is a huge determinant of behavioral health. When you don't have access to food, your mental health starts to decline," she said. "You find yourself working a lot harder to get things done throughout the day." 
Payne said that the food pantry doesn't reach all of the food-insecure individuals in the valley due to stigma and lack of information. She estimated that only a third of the people experiencing food insecurity in the valley come to the pantry for assistance.
Although the pantry has served over 2,000 people in 2022, Payne estimates the need is much greater. Their effort is centered around reaching valley residents who are caught in the middle — making too much to qualify for food stamps but just a few hundred dollars from an empty bank account.
"We recognize that a lot of folks in that self-sufficiency standard are making a livable wage …  but they are $400 from an emergency," she said. 
The food pantry is working with the university to open a student food pantry in the coming months, located in the library and open a couple times a week. 
 (Abby Harrison can be contacted at 970.641.1414 or abby@gunnisontimes.com.)