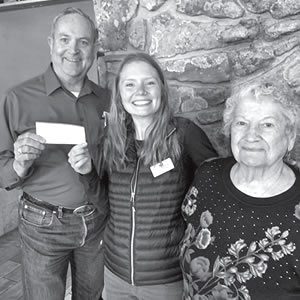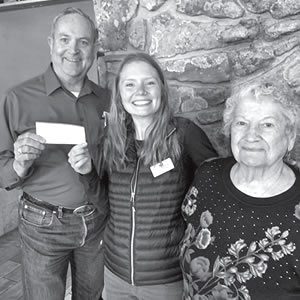 Young at Heart disbands
Meals program
lives on at
Senior Center
Gunnison Country Times
April 21, 2022
Mara Taylor-Heine, Special to the Times

After a long history in the valley, Young at Heart, a volunteer organization serving Gunnison seniors since 1963, has disbanded. The Gunnison Senior Center, part of the Gunnison Parks and Recreation Department, has taken over the group's former functions. Young at Heart has donated its remaining funds — a total of $65,000 — to the Gunnison Country Food Pantry, and the Gunnison Pioneer Museum.
This transition to city oversight began in March 2020 when the COVID pandemic hit the valley. Gunnison City Manager Russ Forrest attended a Young at Heart board meeting to help with the crisis at hand: In 2020, many of the Young at Heart volunteers were now older adults themselves, a demographic group at acutely high risk during the pandemic. In addition, the focus of Young at Heart had always been in-person meals; now there was a greater need for home delivery. Forrest promptly offered to put the cooks on the payroll and asked the rec center to take over, ramping up meal deliveries.
"Basically, they didn't really have the capacity to run a delivery meals program and everything that goes with that, between coordinating the meals, coordinating the volunteers, pick-up, drop-off, all those things," explained Parks and Rec Director Dan Vollendorf.
Initially, the rec center's role filling in for Young at Heart was understood as temporary, but in June of 2020, the Young at Heart board requested that the rec center permanently take over. In September of that same year, the Rec Center put in an official request to the Gunnison City Council for funds (for fiscal year 2021) to sustain the meals program.
"This is an example of city government working," said JoAnn Stone, a former Young at Heart board member. "In reality, this should have happened way before (the pandemic)," she added. Before the pandemic, Young at Heart was serving nearly 100 people three days a week. "Too much for a volunteer organization," she elaborated.
Young at Heart's parting gifts include a $45,000 donation to the Gunnison Country Food Pantry and a $20,000 donation to the Gunnison Pioneer Museum, reported Stone. The board chose these two organizations on account of their shared missions.
"These organizations' missions share similar values to those of Young at Heart," a press release stated. "Both provide social opportunities for older adults and rely on steadfast volunteers 60+ to operate. The Pantry aids Gunnison's older population through its home delivery program and Thursday shopping days. Gunnison Pioneer Museum 'aims to preserve history of those people that have come to Colorado and the Gunnison Country to make a life in the middle of nowhere.'"
"We were just overwhelmed by the generous donation, and we certainly will put it to good use," said Pioneer Museum President Jan Nixon.
"Initially, … I felt sad that their organization was disbanding," said Food Pantry Development Manager Samantha Hunter. "And then … when they were presenting the check to the pantry, I was able to talk to the members, and they just expressed why they were disbanding. It made me feel a little better to know that their program was living on through the pantry and through the rec center and that that population was out of harm's way."
The closing of Young at Heart will not change the form of the meals program as it currently stands. The senior center building will remain the hub of operations preparing meals in person, for pick-up and home delivery (along four routes), three times a week (Mondays, Wednesdays, and Fridays), at a cost of $5 per meal.
In an ironic twist, the senior meals program, as shaped by a pandemic, has had unintended positive outcomes. For one, the more robust home delivery service enhanced outreach efforts.
"Sometimes the driver is the only person they (seniors) see all day," said Pat Lazerus, a former Young at Heart board member. "They're checking on them. Besides dropping off their meal, they're seeing them."
"We really depend on our drivers to report in," added Senior Center Coordinator Elizabeth Gillis. Drivers are now in the habit of passing on information that she can use to make referrals to her colleagues in other departments, such as Gunnison County Health and Human Services. Sometimes the information drivers share is as basic as an older adult's need to find a bus route or schedule a haircut.
The pandemic has, moreover, helped social service organizations identify a need. Meal delivery programs are valuable to not only those contagious or at high risk during a pandemic, but also people who are homebound on account of illness, injury, or limited transportation options.
"That need for home delivery wasn't identified before, and so it's just something that because of COVID, we identified that. And now we get to keep it," Hunter said.
(Mara Taylor-Heine can be contacted at 970.641.1414.)