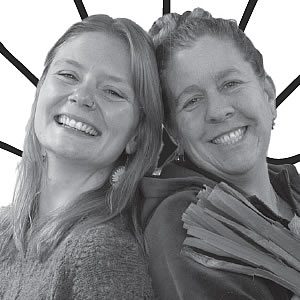 A gift we bring to this community
'A gift we bring to this community'

Photo: New pantry executive director, Jodi Payne, left and Andie Krueger pantry manager, holding items for
Thanksgiving dinner.
Gunnison Country Food Pantry bridges poverty with bounty
Gunnison Country Times
Dec. 09, 2021
Anna Coburn
Times Staff Writer
The first time I wandered into the Gunnison Country Food Pantry on Ohio and Main, I felt like an imposter. I was in graduate school at Western Colorado University and working part-time.
Moving to Gunnison by myself and not knowing anyone meant some safety nets had dissolved for me. It had always been my dream to live in Colorado. I had too much pride in that decision to call back home and admit I only had canned green beans and rice in my pantry.
When I sat down for the consultation, I remember trying to convince the lady helping me fill out the paperwork that I just needed only a little — just a tiny bit — of help for the month. I was practically apologizing for being there and taking up her time. We began calculating my annual-earned income. I was worried that I would be found out — that I would be seen as some spoiled grad student taking someone else's food.
The total income number came up on my phone calculator. I was surprised at the small amount. She didn't look surprised. When we finished the paperwork, she said, "Okay! Let's go get you a box."
I relied on the Gunnison Food Pantry as my main source of groceries for a couple months. The green beans and rice, however, did not go uneaten. I started working two jobs. I found a much more affordable housing opportunity. My trips to the pantry became less frequent.
Three years later, I sat down at the very same table where I filled out the initial paperwork — to interview Katie Dix and Jodi Payne on the Monday before Thanksgiving. Before the bustle of a record-breaking day, we spoke about their changing roles, plans of expanding the pantry and the persisting mission of fighting food insecurity.
Katie Dix is not stepping down but "moving over" from her role as the executive director of the pantry. Jodi Payne will take her place. They were both excited and sincere in their answers to my questions.
"I love being in the pantry just for the community aspect," Payne said. "I look forward to figuring out how to fill such immense shoes."
Because of COVID last year, the regularly-served 900 families jumped to 1,500. The pandemic made pantry leaders reassess their reach and the need within the community in times of crisis. Dix's new role will be focusing on expansion of the pantry. Part of that effort was putting in an offer on the Colorado Fitness building that's for sale.
"It is time for us to face the future bravely," said Dix.
"The pantry is going to be going through a lot of changes in the next three to eight months," Payne said, but she wants the community to understand their mission and vision has not changed. I nodded in agreement, feeling the same warm welcome I felt when I was getting my first box.
"One hundred tons of food not going to the landfill ll is a gift we bring to this community," added Dix. "Food waste is one of the major contributors to global warming."
According to the Environmental Protection Agency's website, "in 2018 in the United States, more food reached landfills and combustion facilities than any other single material in our everyday trash."
Dix said she doesn't think that the pantry has done such a good job of helping the community understand that by sharing the food that would otherwise go to waste we provide a huge benefit for the Gunnison Valley and the greater society.
Another unique benefit of the food pantry is understanding Gunnison's various demographic groups and setting aside designated days and times for them. On Wednesday evenings, they have committed to having a Spanish and Cora translator on-site from 4-7 p.m. On Thursday mornings, they host adults over 60 from 10 a.m. to 2 p.m. with coffee and donuts.
"Anyone who comes through our door gets food," said Dix. "We can give you enough food for your family to eat all week. Most people don't need a full week's worth of groceries, but we can feed them if they do."
The Gunnison Food Pantry was a gift for me and is certainly a gift to this valley. This Christmas, there is no reason to go hungry. There is holiday cheer and bounty available to anyone who needs it.
"We have food for you," Dix said.
(Anna Coburn can be contacted at 970.641.1414 or anna@ gunnisontimes.com.)